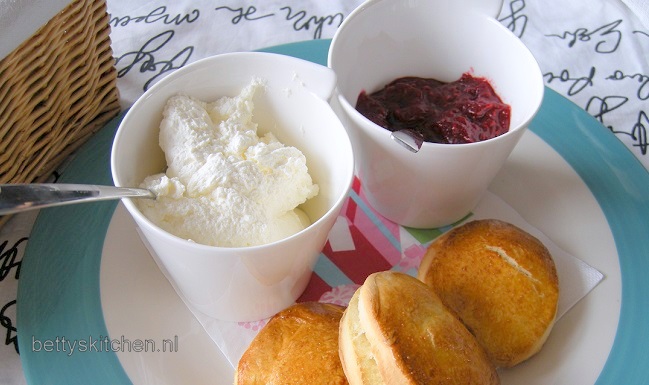 Er gaat géén high tea voorbij zonder scones! En bij scones hoort traditioneel clotted cream en jam! Hoewel clotted cream de laatste jaren ook steeds vaker te vinden is in de supermarkt, is de eigengemaakte variant super eenvoudig en snel te maken. Mascarpone (een kaassoort) vormt de basis en deze wordt smeuïg geklopt met ongezoete slagroom of crème fraîche. 
Recept om zelf clotted cream te maken:
Ingrediënten:
250 gram mascarpone,
125 gram slagroom (of crème fraîche),
Bereidingstijd: 30 minuten + 5 minuten
Bereidingswijze:
Haal de mascarpone 30 minuten van tevoren uit de koelkast, zodat de kaas wat 'zachter' kan worden. Klop in een grote kom de slagroom stijf.
Spatel of mix hier de zachte mascarpone doorheen tot een glad mengel ontstaat.
Serveer direct, of stop in een pot en bewaar nog maximaal 2 dagen in de koelkast.
Eet smakelijk!